Chapter Home Pages – Click on the chapter links below …
Delta Chapter – West to Woodstock, East to Guelph, South to Welland
Eta Chapter – Toronto, West to Milton, East to Ajax, North to Barrie, South to Burlington
Gamma Chapter – East of Ajax to the Quebec border, North to Ottawa, West to Lindsay
Lambda Chapter – North of Sault Ste. Marie to Thunder Bay to the Manitoba Border
Sigma Chapter – London, Sarnia, South to Windsor, West to Leamington
Theta Chapter – North of Barrie including the James Bay Coast, West to Sault Ste. Marie, East to Lindsay.
Chapter By-Laws
Click here for the Chapter Executive Position Descriptions
Click here for the Chapter Executive Monthly Duties
Chapter Development
Chapters of the Central Service Association of Ontario may be developed/organized within the geographic guidelines outlined by the Association (where sufficient numbers of Hospitals/members are registered).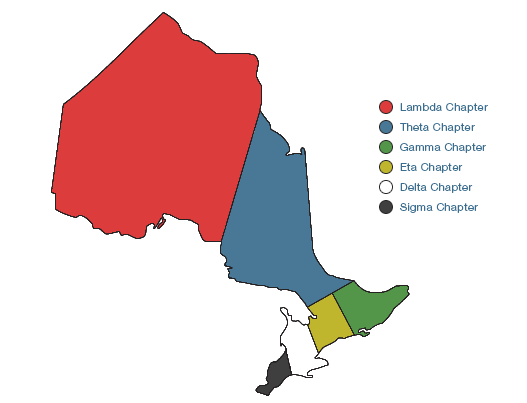 Chapter By-Laws: