Executive Corner 2022-2024
Nathalie Legault – President
Nathalie currently teaches Medical Device Reprocessing at La Cité Collégiale in Ottawa where she is also responsible for the continuous education health programs. She is also a facilitator for MDRAO students that take the online course. Prior to that, she was the Educator in the MDRD at The Ottawa Hospital for 19 years. She divided her time between the hospital's 3 campuses. Nathalie is a graduate of Ottawa University, where she received a BA of Science in Nursing. After graduation, Nathalie worked as a community health nurse for two years and went on to do her certificate in Business Administration at Ottawa University after which she went on to practice in palliative care for 6 years at the Elizabeth Bruyere Health center where she gained expertise as a team leader. Nathalie further pursued her studies by doing her Registered Nurse Perioperative Nursing at Algonquin College after which she pursued a career in the Ottawa Hospital, General Campus Main Operating Room for 6 years. In 2005, Nathalie completed her CSAO course and her Certified Endoscopy Reprocessing Trainer Program (CERT) after which she started working in her current career as an MDRD Educator.
Sara Roberts – Vice President
Sara Roberts is a Medical Device Reprocessing Technician with 11 years experience at the Chatham Kent Health Alliance. Sara has been a long time member with MDRAO and is currently the Sigma Chapter President. She has been involved in planning and executing successful education days and facility tours for the Sigma Chapter. Sara has a passion for knowledge and is always seeking education opportunities for herself, her Chapter and her workplace. Sara promotes the MDRAO education course and has attended several MDRAO conferences. Sara is dedicated to continuous learning and would love contribute more to the MDR profession.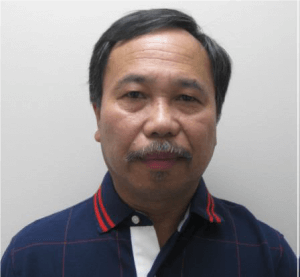 Pablo Ramiro – Director of Finance
Pablo Ramiro started his career in reprocessing of reusable medical devices as a staff member, where he thought his science background and interest in surgical instruments will do more, gaining experience and knowledge, continues to educate himself in emerging new techniques and best practices as well as familiarizing himself with new surgical instruments. Pablo started his career as a staff member of Central Service and Transportation Department of Sickkids. He took the CSAO Central Service Techniques course in 1990 which was in Wellesley Hospital, Toronto at that time, since then has been an active member of the CSAO / MDRAO. The year after, he took the Sterile Supply Processing Program in Centennial College. Over the course of his career he joined York County Hospital now the Southlake Regional Health Centre in Newmarket. He is also a faculty member of the Medical Device Reprocessing Program of Centennial College, Toronto, Ontario as a clinical instructor. Pablo is currently a supervisor of Medical Device Reprocessing Department of The Hospital for Sick Children in Toronto, Ontario.
Jeffrey Phelps- Past President
Jeffrey is a CMDRT currently working at the North Bay Regional Health Centre in the Medical Device Reprocessing Department. He began his working life serving eleven and a half years in the Canadian Forces Land Reserve including one and a half tours of duty with the United Nations Emergency Force in Egypt. Jeffrey then worked for the next twenty-five years in the trucking and logistics field holding various offices within the same company up to and including Terminal Manager. In 2007, he took the CSAO course and has been working at the North Bay Regional Health Centre since the completion of that course. Later, seeking a challenge to his knowledge, he successfully completed the CSA America CMDRT Beta Exam. Jeffrey joined the THETA Chapter Executive as Secretary for two terms during which he served on the Provincial Board as the Chapter Development Representative. He then served two terms as President of the THETA Chapter and is now the Past President for the chapter. During his career as an MDRD Technician he has kept current with both his membership and certifications through both the MDRAO and CSA as well as invigilating the last three THETA MDRAO Technicians Course. He has attended all relevant conferences including the CAMDR conference in Toronto. Jeffrey has also expressed an interest with the chair of the CSA Standards Committee about sitting at their board in the future. Jeffrey believes that he has the passion, experience, and drive to properly represent the THETA Chapter at the provincial table as well as the adaptability and vision to help move the association into the future. He enjoys a blended family with four stepdaughters and three daughters of his own. In his leisure time his passions are travelling with his wife, woodworking, golf, and designing tools.
Roch Landriault – Director of Education, Gamma Representative
Megan Bozec – Director of Chapter Development, Lambda Representative
Sue-Ann Miller – Theta Representative
Stacey Gielen – Sigma Representative
Tamiza Samji – Delta Representative
Maria Raj – Eta Representative
---
Gillian Shaw – Vendor Representative
Ryan Acayan – Executive Director