Below you will find everything you need to know for taking the MDRAO Recertification Online Exam.
Leave the room until your exam is over
Lean outside of the webcam view
Talk out loud for any reason
Read any part of the exam out loud
Have anyone else in the room other than yourself
Attempt to record, photograph, or write exam questions at any point in the exam
External support materials are strictly prohibited from being used during the test.
https://kryterion.force.com/support/s/article/Online-Testing-Requirements-What-You-Need-to-Know?language=en_USA computer where you have full administrator rights to install/uninstall programs and enable/disable firewall settings
Integrated or external webcam (phone cameras are not allowed)
Integrated or extra Standard English keyboard
Government-issued photo ID
Please visit https://kryterion.force.com/support/s/article/Online-Testing-Requirements?language=en_US for a detailed list of system requirements
Once you have your voucher code, you will need to create a user account on our exam scheduling platform https://webassessor.com/mdrao to proceed.  Click on the menu item "Register for an Exam". After you select the date and time of your exam session, enter your voucher code in the required field to finalize your registration.
The certificate of completion is only valid for 5 years, after which you will need to take the MDRAO Refresher Course.
Once you pass your exam, you will receive an email containing your digital certificate the following week. A physical certificate will not be mailed to your address.
If you decide to rewrite the exam, you must do so within 14 days from the date of your first attempt.
If you do not achieve the passing mark of 70% or more, you will receive a failure letter with your overall mark and a breakdown of your score by chapter.
For a fee of $200, you may rewrite the exam once within the next 14 days. The rewrite exam must be purchased online using the link in the failure letter.
It will be important that you spend lots of time reviewing your textbook and workbook, and to redo the online slides and quizzes in those 14 days before you rewrite.
The passing score for the final exam is 70%.
The exam contains 100 questions, using a combination of true/false and multiple choice questions.
You have 2 hours to write the exam.
You have three months from your start date to write the exam or you will be locked out and lose your registration fee. There are no exceptions!
At times, examinees may have things come up in their lives and the exam that they register for may not work after all.
OLP exams, cancellations/rescheduling can be made up to 24 hours before the scheduled start of the exam.
Exam voucher refunds will not be issued after the end of the course you are enrolled in.
MDRAO has partnered with Kryterion to provide proctored electronic exams for its certifications.
MDR Techniques Course Exam
Once you successfully completed your course, you will be sent a special link to purchase a voucher to book your online examination. After paying for for the voucher, you will be emailed an access code. Follow the instructions below on booking a date and time.
MDRAO Recertification Exam
There is a form that is required to be submitted by your manager before you can buy a voucher to be used on the Kryterion website. The form can be downloaded from this site. After paying for the voucher, you will be emailed an access code to schedule your exam. Follow the instructions below on booking a date and time.
Booking a Date and Time and Accessing Your Exam
Once you have your access code, create an account on Kryterion's website using "Create New Account" at top right area of the screen. Once logged into your Webassessor account, go to the menu item "Register for an Exam".
Click on "Register Now" for the exam you are taking. Ignore the $50 face-value of exam showing. This is NOT asking you to pay again. You will enter your voucher later.
With your voucher code in hand, select your desired date and then your seating time. Once date and time selected and you have agreed to the terms and rules, click on "Select". Select your date and time carefully!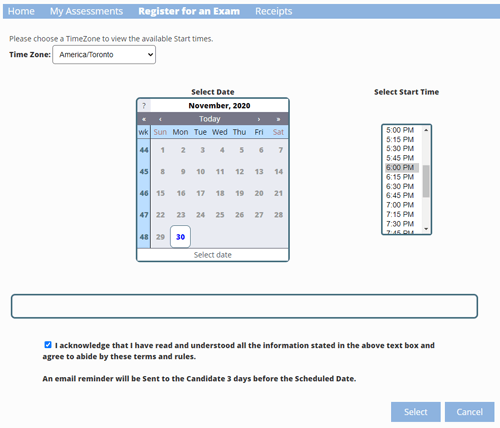 On this page enter your voucher code. The voucher code will zero out the cart total.

Follow the rest of the screen prompts from that point forward.
DO NOT use mobile device for your exam.
Known Issue (occasional)
Some users have landed on the wrong site for their exam booking. The correct URL is https://www.webassessor.com/mdrao. If you do not see the MDRAO logo and there is only one option showing "KCP Certification" (as seen below), please close your browser and try logging in again. If the problem persists, please contact the office.